No more games played? No celebrations, no pitch invasion, no haze of a drunken night celebrating.
But we'll take it yeah?? Of course we will.
And rumours are that the EFL will make a decision early next week, according to the Athletic who are reporting that the League 1 and League 2 season's will be abandoned and a decision based on a points per game model will be used to decide promotions and relegations.
The ppg model will be weighted between home and away games as some teams will obviously have different amounts of home and away games left.
Which turns out alright for the Millers as their away form has been good.
The L1 punch-up in my notifications suggests the only way to explain the home/away PPG idea is to show you. Knock yourselves out. Southend fans, don't bother. We're last. pic.twitter.com/FTwTw81kCL

— Matt Slater (@mjshrimper) May 8, 2020
Of course earlier in the week boss Paul Warne admitted that he didnt think another ball would be kicked in L1 and L2, but persistant under-achievers Peterborough United are not happy, and thier chairman Darragh MacAnthony threatening a legal battle of 'epic proportions' should it happen..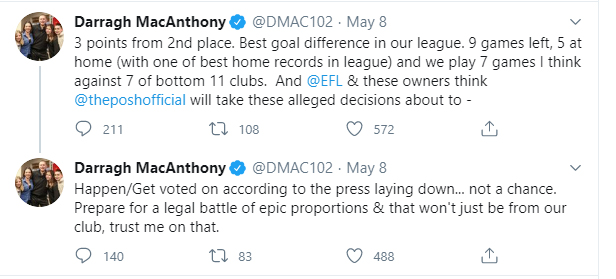 So, whats your view?? If this was 1 game, and it was abandoned with 80% played, the result would stand... Surely, this is the correct decision??