Who are you, where are you from and how long have you supported your club?


I'm Alan Fisher from www.ltlf.co.uk and I've supported Forest for around 17 years.



What was your first game?


My first game was under duress from my dad - we lost 1-0 to Manchester United in the league cup (although we'd had a goal disallowed), I wasn't quite hooked but remember looking down upon the lower tier full of leering Mancs and the stirrings of that temporary hatred football fans reserve for one another was starting to develop... I was hooked after that game. Thanks a lot, Dad!



Describe the most memorable and the worst game you have seen and why?


The most memorable is either the 1991 FA Cup Final, where Gazza's injury prevented him getting sent off, (and in my opinion prevented Brian Clough from completing the domestic set of trophies), or the Play Off Semi-final against Sheffield United at Bramall Lane. Funnily enough we lost both games, to our long term detriment, and Des Walker featured in both fixtures scoring an own goal!!

The worst game is probably from this season - and there's plenty to choose from, I'll go for losing 3-0 to Chester City in the cup, it was a dire dire game.



Who are your current local rivals and why?


Derby, Derby and Derby. Despite the abuse we get from Notts and Leicester there's really only one side Forest fans are interested in having as a rival. I suppose in League One our closest rivalry is probably Chesterfield or Doncaster geographically, although we've seen a lot of the Millers and Gillingham over the last few seasons so I think those games have a little more rivalry to them as well. Particularly since we relegated the Gills at the end of last season! Mwah ha ha!



Who are the best and worst players you have seen?


I'm a little too young for Forest's real glory years, but I've still been blessed to see the likes of Stuart Pearce, Des Walker (first time around!), Lars Bohinen, Colin Cooper, Stan Collymore, Nigel Clough, Pierre Van Hooijdonk (wanker!), Steve Hodge... the list could go on forever.

For worst players then I'd be looking more recent, and I'd be looking at Andy Impey, Daryl Powell or Barry Roche. (I was tempted to put Gregor Robertson, but I'll play nice!).



How did you fare last season?


Very very badly, with a fully deserved relegation in the third tier. This is the lowest ebb in over 50 years of Nottingham Forest history, in a way it's interesting having the opportunity to witness it - in a morbid way.



Where do you think you'll finish up this season?


Heart still says automatic promotion, head says scrape into the playoffs and lose!



You are of course referred to by the media as "Former European Champions, Nottingham Forest". Now, personally we ain't bothered what you've won in the past but do you find teams wanting to beat you extra because of who you are?


Megson certainly seems to think so! We see very big away followings at the City Ground, and on our travels we see much higher than average attendances, so I guess there's something to it - but let's face it, we were European Champions 26 years ago - people accuse Forest fans of living in the past, but to be honest, we don't - it's the media and teams we're facing who dredge up former glories.

When we played Weymouth in the cup one of their local butchers created a commemmorative sausage! How mad is that?



Being a Forest fan must have been hard over the last few seasons. There is a river running behind the home end, ever thought about chucking yourself in it?


Have you ever looked at the Trent? It's brown and full of nasty currents.. I've thrown things into it in frustration, and maybe deep down there's been the odd time I've wanted to jump off - I try to park on the ground side of the river now to alleviate the temptation!!

Alwight




If Forest were a TV personality, who would it be and why?


Some one like Michael Barrymore, someone who perhaps attained celebrity status without any historical pedigree or (in the eyes of the wider world) particular merit, hung around for a while then proceeded to f**k up their career bigtime!



So what do you think of The Millers?


I really like Rotherham - I've been to Millmoor twice, and whilst you can make the obvious comments about it, I love to go to 'proper' old grounds. Aside from the dreary miners strike banter I've found the relationship between the two sets of fans to be great as well. I usually keep an eye out for the scores - here's to seeing them start to perform a bit better in the league (so long as we win first, of course!).



Which current or former Millers player has impressed you the most?

For comedy reasons I'll pick one Ronnie Moore has taken to Oldham with him - but you can have hours of humour at the expense of poor old Guy Branston - oddly none of my neighbours at the City Ground seemed to appreciate my pickle-related humour!

Jonathan Forte impressed me at the City Ground earlier in the season - albeit playing for Doncaster - hopefully he'll give you something extra up front to start turning the results around (after 21st would be nice, mind!).



Are you happy with your chairman and board members?


It's hard to say yes, because they've lead us to our lowest ebb in living memory, but then they've sorted out our finances and we've spent a lot of money on bringing in the likes of Nathan Tyson and Grant Holt amongst others, so overall I think it has to be yes - they've made errors, but seem to want to fix them.



Which team do you want to beat this season the most and why?


Gillingham - always fun to beat the Pikeys. Maybe Chesterfield just because a section of their fans were such abhorrent morons at the City Ground. And they are based in Sheepshire afterall.



What sort of line up can we expect from you?


Hoofs from the defence over a non-existent midfield (because it will really consist of defenders) to tiny Nathan Tyson who really needs the ball on the floor! Grant Holt is suspended for this game so you're likely to see Tyson and Lester upfront, so if we do play it on the floor then we'd have a chance - but we probably won't.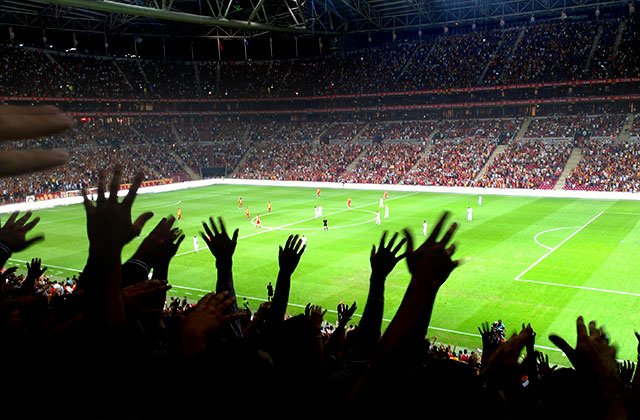 Pyscho!




Who's your strongest/weakest link?


Strongest link is Ian Breckin at the back - been almost flawless in what has been a disappointing season - as well as defensive duties he's dangerous at set pieces at the other end.

Weakest link is probably Gary Holt or David Friio - both game to the City Ground with much promise, and really don't seem to have thrived here. Shame really, means we have to play two fullbacks in centre midfield now!!!



What's your predicted score?


I think we'll break our away hoodoo (we've not won away since August!) and sneak a 2-1 win, sorry! (Of course, now I've predicted that you'll give us a good spanking!).



Who's going up?


Swansea, Forest, Southend (through the playoffs). That was heart rather than head talking.



Who's going down?


MK Dons, Swindon and Blackpool - hopefully.



And finally….Meat and tatty, Beef n Onion or Balti?


Quite partial to Meat and tatty, but Balti pies are something of a delicacy at the City Ground so like to check out the competition periodically!
Millersmad would like to thank Alan for taking the time to do this questionnaire!